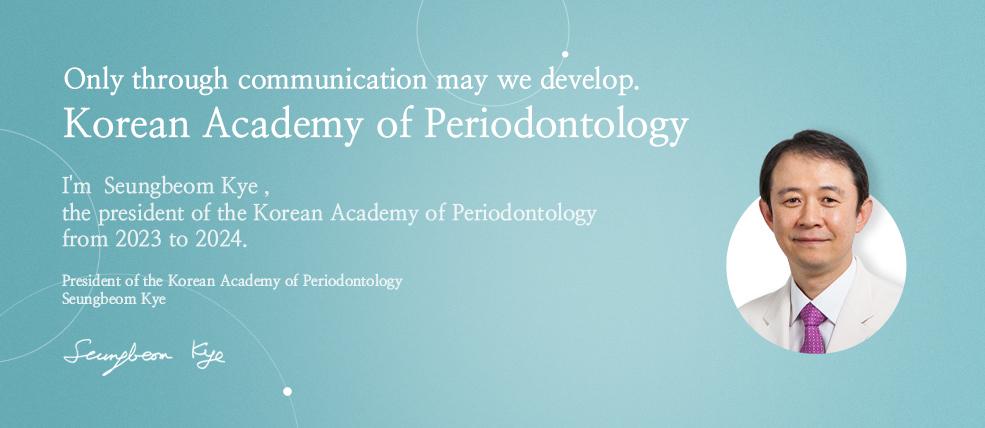 Thank you for visiting KAP homepage. Since its establishment six decades ago, KAP was able to undergo the remarkable development that can be witnessed at present thanks to the dedicated efforts of all its members.
Indeed, KAP achieved growth not only in quantity but also in quality. Among all accredited academic associations in dentistry, I am proud to announce that KAP has been chosen the best academic association. JPIS, the journal published by KAP, is currently one of the most frequently cited journals among dental publications in Korea. To promote public dental health, KAP designated "Gum Day" fourteen years ago and has since hosted activities to raise public recognition of dental health. Internationally, KAP has maintained close ties and cooperation with many excellent academic associations abroad.
For the next two years, I will serve as the President of KAP. Together with the incumbent and all of KAP's members, I look forward to carrying out this important responsibility as I work to meticulously implement KAP's plans and project goals. In this pursuit, I will open the floor so many innovative and brilliant ideas can be freely presented and discussed by KAP's committees and these ideas can be put to practice without delay. I have always placed importance on campaigns to raise public awareness of periodontal disease prevention. During my term, KAP will spare no efforts in implementing programs to promote public dental health.
Lastly, the future of KAP depend on the support from all its members. I wish to take this opportunity to ask for continued support and participations by all members. Thank you.
Seoungbeom Kye
President, Korean Academy of Periodontology